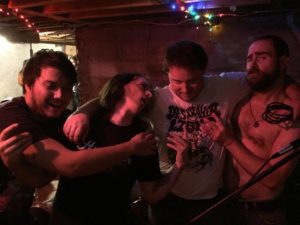 This week, Judge Dredd and CJ are joined by Lawrence grindcore ragers Hot and Ugly!!  Lots of local scene talk, band history, and, of course, plenty of jokes and giggling.  Also featured is Hot and Ugly's entire new album, "Revenge of the Ugly", in its entirety (except for one song which was too naughty for KJHK), along with a bunch of other crusty, sludgy metal and hardcore.  Check it out!!
PLAYLIST:
1-12. Hot and Ugly (USA)
13. Converge (USA)
14. Die Choking (USA)
15.  Hayaino Daisuki (USA)
16.  Khann (USA)
17.  Red Death (USA)
18.  Phantom Glue (USA)
19.  Iron Reagan (USA)
20.  Brutal Truth (USA)
21.  Disrupt (USA)
22.  Cowards (France)
23.  Death Motif (USA)
24.  Cephalic Carnage (USA)
25.  Maruta (USA)
26.  Antigama (Poland)
27.  Aversions Crown (Australia)
28.  Alluvial (USA)
29.  The Great Old Ones (France)
30.  Falls of Rauros (USA)
31.  Aegaeon (USA)
32.  Code Orange (USA)
33.  The Drip (USA)
34. ?