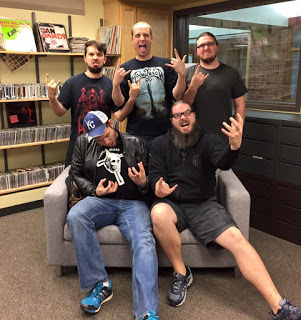 Clockwise, from top left: Judge Dredd, Mark of the Beast,
CJ, Mean Dean the Metal Machine, Metal Al
Unholy hails to thee, loyal Malicious Intent legions!! This blog has been slightly inactive the past few months, mainly due to Judge Dredd and I being busy with our scholarly post-graduate studies and CJ venturing into the mysterious misty mountains of beautiful Nepal…however, you may have heard whispers in the night of strange forces beyond our terrestrial sphere, working diligently to bring about a crossing of paths of Malicious Intent warriors past and present for what could hopefully be the first of many reunion shows!
From CJ's notes on the show: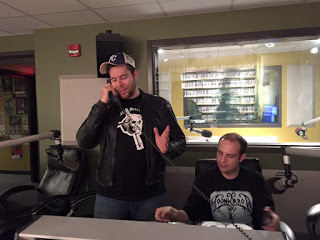 Metal Al (left) on the phone with Frankenstein (Mike Hall),
another former Malicious Intent DJ who unfortunately
couldn't make the show. Meanwhile, Mark of the Beast (right) overlooks his majestic
collection of pirated Kroda CDs.
If you're a follower of KJHK, you've probably heard about Malicious Intent at one point or another. It's been a staple of the university station for well over twenty years, which means there have been a slew of DJs who have carried the mighty torch. These brave bastions of metal have carried that flame with extreme care and dedication towards the all-encompassing genre of metal in tandem with its ardent and vocal community. This post is the first in a number of KHJK segments that honor the program's history and its contributors. On October 24th, the regular two-hour program was converted into a reunion show featuring five different DJs, both old and new.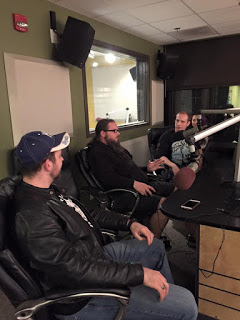 "The kids these days, they just don't
listen to enough Mercyful Fate!"
In attendance were current DJs, CJ and Judge Dredd, along with Metal Al, Mark of the Beast and Mean Dean. If you missed the show by some unfortunate stroke of bad luck, we welcome you to sit back and enjoy all of the banter and metal madness that occurred during this special edition of the show. Even if you've already heard it, we know you probably enjoyed it so much that you want to listen again; so by all means, please do so.