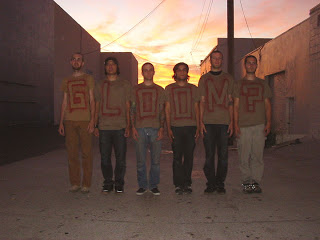 As a seasoned metal head, I have "geeked out" in an extreme fashion only a handful of times over the last couple of years. This includes "geeking out" from news items, albums, band formations/reformations, etc.
One of my "geek outs" was concerning Deathspell Omega's most recent album, "Paracletus" (2010). Another one was the announcement of a new Gorguts album, which, besides the mighty Luc Lemay, will feature two of my favorite metal musicians, Kevin Hufnagel (Dysrhythmia, Byla, Vaura) and Colin Marston (Dysrhythmia, Behold…The Arctopus!, Krallice, etc.).
I can proudly say that this afternoon I had another moment of "geeking out": Old Man Gloom is reforming to play a string of shows on the East Coast. For those who don't know the band or have not been lucky enough to hear my rants about them, Old Man Gloom is a super group featuring members of Converge (Nate Newton), Cave In (Caleb Scofield), and Isis (Aaron Turner). They combine elements of sludgy metalcore with ambient/drone. Sometimes they combine both elements into one song, while other songs might be focused on one or the other.
When I was first getting into modern underground metal back when I was 15 and 16, I discovered Old Man Gloom and Discordance Axis about the same time. I didn't listen to anything else for months. A while ago, I listed two Old Man Gloom albums as two of the most underrated and unappreciated classics of the 00s…of course, in my humble opinion. So, in a word, I'm just a little excited.
Since there is no way I'll be able to catch any of these shows, let's pray to the mighty Dark Lord himself that this leads to a new album.
05/03 Allston, MA – Great Scott (feat. All Pigs Must Die)
05/04 Philadelphia, PA – First Unitarian Church (feat. Rosetta)
05/05 Richmond, VA – Strange Matter (feat. Iron Reagan, Balaclava)
05/06 Baltimore, MD – The Ottobar
05/07 Hamden, CT – The Space
05/08 Brooklyn, NY – Europa (feat. The Austerity Program, Psychic Limb)
Hilariously enough, there have been a couple of fake-outs regarding an OMG reunion over the last year or so. One seemed to be orchestrated by producer and Converge guitarist, Kurt Ballou, while the other was a subversive suggestion on a flyer promoting new Hydrahead Records releases.