73/100
The divisive Iowa gang demonstrates the upper limits of heaviness of the "Nu-Metal" genre but refrains from going all-out extreme, which is something fans will probably never get to witness.
Dear reader,
To be honest, I have been sitting on this review for a few months now, seesawing whether it would be metal enough for the content of this site. With the recent passing of original SLIPKNOT drummer Joey Jordison (R.I.P. 2021) I figured I might as well publish this thing instead of sitting on it forever. Now, if you are tired of being beaten over the head with nonstop SLIPKNOT coverage, I sincerely apologize. However, if you would like to read an honest review of this notorious nu-metal record, then put on your favorite cheap Halloween mask and please enjoy my track-by-track rating of 2008's All Hope is Gone.
Introduction
I first became interested in checking out SLIPKNOT in the summer of 2019, after I purchased my ticket to Knotfest with the goal of seeing two of my favorite bands: BEHEMOTH and GOJIRA, which were opening for the well-known nu-metal group. Entertained by SLIPKNOT's performance, I found myself becoming a casual fan throughout the fall and winter of that year. Enter coronavirus. The March 2020 coronavirus shutdown initially kept me locked inside my home for a then unknown amount of time with nothing much to do save listen to albums, play Gears 5 horde mode, and workout crazy-hard at home à la Max Cady from Cape Fear (1991). After a month into the pandemic I was starting to lose hope of returning to a normal life. It was at this point when I thought what better album to listen to than one titled All Hope is Gone. Now it has been well over a year since I was streamlining this album for a few months in the weight room and during my gaming hours so I am totally ready to review this sucker.
1. ".execute."
I am generally not a fan of intro tracks but I will say this one offers a killer drum solo that totally sets the tone for the first real track of the album. That being said, why not just have it be part of the song it leads into? This slight annoyance gives ".execute." a 5/10 rating.
2. "Gematria (The Killing Name)"
One of the heaviest and therefore best songs in the Knot's catalogue. There's little nu-metal in this one, more of a groove metal track with some thrashy riffs reminiscent of, dare I say, SLAYER. As far as Knot songs go, The Killing Name is only surpassed by the final song on the album, which I will talk about later. 10/10.
3. "Sulfur"
A slight decrease in aggressiveness from that of track 2. Nonetheless, SLIPKNOT's use of turntables in this song along with the catchy chorus allows them to successfully craft an awesome nu-metal track. Sulfur is one of the best songs on the album and usually appears in SLIPKNOT's live sets, to the delight of many fans. 9/10.
4. "Psychosocial"
We arrive at arguably the quintessential SLIPKNOT song. From the moment I hear the lines "I DID MY TIME" I know I'm in for a great neck workout. The big groove verse mixed with the melodic hard rock chorus make this song enjoyable to even the most timid metal listeners. If you want to introduce someone to SLIPKNOT, Psychosocical is the song with which to do so. 10/10.
5. "Dead Memories"
This is my least favorite song on the album. Apart from the double-bass drum beat in the second verse, Dead Memories could pass for a bad FOO FIGHTERS song. This track is one of the reasons SLIPKNOT will never achieve true metal status. 3/10.
6. "Vendetta"
Vendetta is one of the more intriguing songs on the album. It opens with a nice heavy riff –strikingly similar to GOJIRA's From the Sky— coupled with a good calf exercise double-bass beat and some sexy bell hits on the ride cymbal. After the intro the rhythm comfortably shifts into a heavy metal/hard rock groove. This part of the song is OK but is ultimately where Vendetta falls short (imagine a better version of VOLBEAT). However, the song is saved by a seemingly random breakdown following the second chorus (the breakdown is later played again for the ending of the song). This section kicks and stomps hard and really makes me want to witness Vendetta in a live setting. Sadly, they rarely play it live; it seems this is a lost gem of the Knot's catalogue. Rating: 8/10.
7. "Butcher's Hook"
Pretty generic nu-metal song here. A fairly cool riff towards the end. The most notable part is the shouted line "GO AHEAD AND DISAGREE" but this is offset by the whiny "I'm giving up again?" vocals immediately after. There isn't much else to say here. 6/10.
8. "Gehenna"
Sonically track 8 falls somewhere between ALICE IN CHAINS and QUEENS OF THE STONE AGE. Stoner post-grunge is not really a style SLIPKNOT should pursue further but they didn't necessarily botch it entirely with this song; it's just too slow without any meaningful payoff. Gehenna is a niche little oddball track only dear to super-fans. 6/10.
9. "This Cold Black"
Track 9 is a typical above-average SLIPKNOT song. Nothing unique here. In fact, This Cold Black would fit comfortably on any of their albums. But hey, consistency matters. This one earns a respectable 7/10 rating.
10. "Wherein Lies Continue"
Drop A tuning, slamming guitar riffs and iconic shouted vocals. Were it not for the cleanly-sung hard rock chorus, Wherein Lies Continue would unequivocally be a beatdown song. Believe it or not SLIPKNOT really thrive in this style; unfortunately I can't think of another Knot song that sounds anything like this one. Such a pity. 9/10.
11. "Snuff"
As far as track positioning goes, this should really be the last song on the album because it unceremoniously kills the vibe every single time I listen to this record. But as a singular entity, Snuff is a perfectly fine butt-rock ballad. It's probably best described as SLIPKNOT's Nothing Else Matters, though perhaps METALLICA could have done a better job since Corey Taylor is not the most impressive clean-singing vocalist (you can't convince me that a classic Hetfield "YE-YEAAAAH!" wouldn't improve Snuff). 4/10.
12. "All Hope is Gone"
Undoubtedly the heaviest and therefore the best song SLIPKNOT has ever recorded (it's certainly my favorite). According to setlist.fm SLIPKNOT has performed this song live only one time, which is a crying shame because it's hella heavy by any reasonable standards. The title track pulls no punches. It's got blastbeats, dueling guitar solos and a chorus that makes me want to engage in roughhousing. There's a mid-tempo groove metal bridge which provides an excellent opportunity for headbanging and thrashing around like Bruce Banner right before he turns green. It then jumps straight into the lightning fast pre-chorus before one final chorus, then circle-pitting back to the bridge to close out the album. Clearly the track is a 10 out of 10.
Conclusion
At this point I'll stress that All Hope is Gone would be a better album if the last two songs were switched in order or if Snuff was simply a bonus track not included on the official track listing.
Finally, if you've been keeping score you must have tallied the album's points as 87/120 = 0.725. Rounding up results in a score of 73/100, which is probably my highest rated SLIPKNOT album –though I haven't applied this method to the rest of their discography. Regardless of how I rate albums, intuitively All Hope is Gone is my favorite from the Knot, and I still enjoy it to this day. Overall, All Hope is Gone is a solid album but, to no surprise, will not satisfy the tastes of trve metal-elitists.
-Gorn, August 2021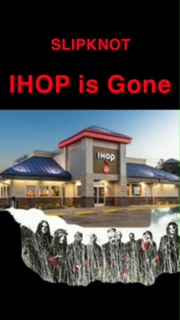 A crude snapchat created Gorn.