When it comes to metal or extreme music, living in South Korea can be extremely frustrating.   It's obvious that there are enough bands and fans here to make a halfway decent "scene", so why is it that the turnout at most of these shows is always a little disappointing?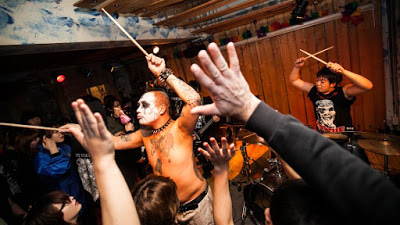 1.   There is very little in the way of any real organization.   There are random Facebook groups that have some upcoming show announcements.  There are various websites that occasionally do some promotion.   And, of course, there's word of mouth.   I guess it's also worth pointing out that there's a language barrier as well, since we are in Korea, after all.
2.   Metal (or any non-pop / soft rock for that matter really) just isn't that popular here.   However, in a nation of roughly 50 million people that is also literally HALF the size of Minnesota and with excellent, relatively cheap transportation, it blows my mind that there is a struggle to get even like 50-100 people to show up at a gig.
3.   Promotion itself is abysmal.   Of course, it's possible that this could be a language issue and that most foreigners are then just left out in the cold since most of us don't speak Korean (and thus, don't check Korean websites and that kind of thing), but I doubt it.   I'd say that at any given show, roughly half of the people there are usually foreigners.   If the show was really well promoted for the Korean fans, then I'd expect the ratio of the attendees to be a lot more unbalanced.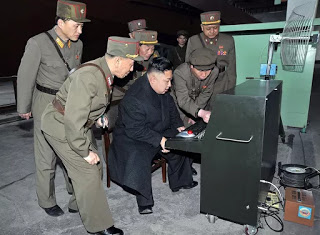 Even North Korea is excited about Asia Metalhead finally going live!
When I was living in Sydney I had no problem whatsoever learning about shows, and this had nothing to do with the fact that I'm an English speaker.    The scene itself was just extremely well-organized, in large part due to the Gig Guide at Australian Metal Guide.   Even a non-English speaker would be able to figure out what was going on based on the clear design and layout of that site.
Well, finally metal fans living in Korea and East Asia have something that offers some hope!   My buddy Dan Orozco started a website, "Asia Metalhead", which aims to make it easier for everyone to keep up with what the fuck is going on in terms of gigs and shit here in the Far East!    Metal fans in Japan, South Korea, China, Thailand, Malaysia, Singapore, and Indonesia should all check it out!
Also, if you have any news of upcoming shows, no matter how big or small, I'm sure Dan would appreciate it, plus anyone else who just wants to keep up with what's going on.
BONUS:

The video above features the killer Korean death metal band, Seed, but also some rare footage of Wulf (denim vest with Bathory backpatch) and Judge Dredd (bro in the flannel to my left) drunk as fuck and looking like noobs, but having a goddamn blast!!  You, too, can partake in the blasphemic ritual chaos!!  Go to Asia Metalhead, find out about the next show, and if you're extremely lucky you may even see one (or BOTH!!!!) of us there!!!
DAN OROZCO INFO:
You can stalk him at: https://www.facebook.com/metalsamurai?fref=ts
You can hit him up on Kakao Talk at: danorozco666
You can spam his email at: daniel-orozco@live.com
You can try to get him to do a live striptease via Skype at: dan.orozco