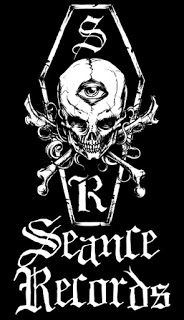 This interview is part of a series I'm doing in order to explore the dark and intriguing world of Australian black metal as well as spread the word about The Devil's Arcana, a 2-day black metal festival taking place on March 30-31 here in Sydney, Australia.
http://www.seancerecords.com/
Interview conducted via e-mail on March 21, 2012.
WULF: Tell us a bit about Séance Records. How did it come to be established?  Is the label a one-person operation, or is it run by a group?
S SLAUGHTER: Séance Records is collaboration between Wraith & myself. Between us we have been involved with various bands, zines, labels & projects for well over ten years. Séance Records was launched with this previous experience behind us as a label dedicated to black metal and the dark music that we personally love. The label supports the music that Wraith is involved with as well as those of our friends and new bands that we believe in. Séance Records seeks to support and promote Australian black metal via the promotion of live shows and our releases.
WULF: So far you only have one band on your label, Erebus Enthroned.   Are you looking to sign more bands, or are you focusing more on merchandise (such as patches, shirts, etc.) and distribution?   Also, feel free to tell us about any exclusive merchandise you have to offer.
S SLAUGHTER: Erebus Enthroned is just one of the bands on our label. Their debut, 'Night's Black Angel' was our third CD release. Other bands currently on our roster include Pestilential Shadows, Nazxul, Nocturnes Mist, Spire and Crowned. Forthcoming releases include the debut album by Crowned, 'Vacuous Spectral Silence', 'Drowning in the Vampyric Sacrament of the Immortals' a split CD release featuring Drowning the Light & Vampyric Blood (Finland) and a split 7" union between Pestilential Shadows & Corvus.
We are always interested to hear new music being created & accept demos with the possibility of release. However as a label we aim to keep our roster & release schedule small in order to give full focus and support to each band on an individual level. The bands that we release are bands that fit the vision of Séance Records & that we personally like and believe strongly in. So far our focus has been on Australian black metal due to the strong ties we have with the AUBM scene, however we are open to music from worldwide.
We do release exclusive merchandise, mainly patches for bands in the aim to provide quality pro patches for artists on an underground level. Some of the exclusive patches that we currently have on offer include designs for Sadistik Exekution, Absu, Graveland, Portal, Drowning The Light, Mournful Congregation & many more. An exclusive Abigor, 'Quintessence' patch is forthcoming. All of our releases & patches are all available via www.seancerecords.com
WULF: What are you hoping to accomplish with Seance Records?
S SLAUGHTER: The support of bands that we believe strongly in, the promotion of their art to a worldwide audience, the production of quality pro merch for underground bands and live shows focusing on Australian & New Zealand Black Metal. Our live shows are an extension of the label, in part social gatherings for supporters of the AUBM scene to create a memorable experience and wider awareness for those interested in this kind of music as well as a rare opportunity for these bands to play together.
WULF:  Some of the art on your website is fantastic.  I'm especially curious about the art for your logo…who is the artist?
S SLAUGHTER: Much of the artwork for the label and our releases has been created by Balam of Pestilential Shadows including our logo. He is a prominent tattooist in Sydney and his dark style of art perfectly suits the image and vision for Séance Records.
WULF: What is your connection to the metal store Le Cabinet des Curiosities in Sydney?

S SLAUGHTER: We own and operate this store which also sells dark alternative fashion, jewellery, occult items & interesting ephemera. The Séance Records store within is fully stocked with hundreds of current underground black metal & doom CDs, vinyls, patches & shirts. The store provides an outlet to offer underground music not available elsewhere in Sydney. It is a place still rooted in underground traditions that have died off with the decline of indie music stores. Customers can come in & listen to releases, display their posters & fliers to promote bands & gigs as well as sell their demos and share their music. The shop has become a meeting ground for many, a platform for hearing new bands and music in order to further the genre in the underground way which it was founded. The shop is one of the few places left that extensively stocks Australian bands, demos, tapes & zines.
WULF:  Being an Australian record label specializing in extreme metal, what are some of your personal favorite Australian extreme metal bands?
S SLAUGHTER: Whilst we focus on black metal we have always believed that Australia has had a profound and important contribution to extreme metal even from the early days and to list all of the great bands would be hard but some highlights for me include Nazxul, Misery, Mournful Congregation, Stargazer, Cauldron Black Ram, Disembowelment, Myrddraal, Invocation, Portal, Bestial Warlust, Lord Kaos & Abramelin.
Some newer bands that I am currently giving high rotation to include, Spire, Midnight Odyssey, The Crevices Below, Woods of Desolation, Austere, Moon, Thrall, Ill Omen, Temple Nightside, Grave Upheaval, Impetuous Ritual, Wardaemonic & Ignivomous.
Over the waters from NZ try Blood of the Moon, Heresiarch, Diocleatian, Vassafor & Witchrist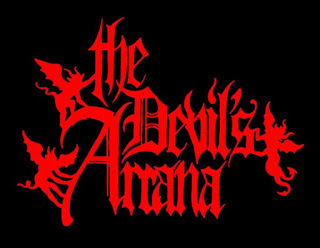 WULF:  What can we expect from attending the upcoming The Devil's Arcana festival at the end of the month?
S SLAUGHTER: The Devil's Arcana like our previous shows is a line up entirely dedicated to current Australian & New Zealand Black Metal like no other. This festival is unique in gathering the largest line up of active black metal bands from this region of the world. The show is also a gathering of those dedicated to AUBM from all over Australia. The show expands the awareness of those interested in black metal, coupling established bands with new bands and even those making their live debuts. The event is equally as important as a social gathering as a platform for music and its propagation.
Those in attendance shall witness 13 bands, each diverse in their interpretation of Black metal. Vassafor from New Zealand headlines the festival appearing on the Saturday with a lineage of involvement with Diocleation and other extreme NZ bands. Their show will be an uncompromising barrage of black metal on the bestial side whilst Nontinuum & Crowned offer a more melodic depressive representation of the genre; Black metal orthodoxy from Erebus Enthroned & Pestilential Shadows; Moon & Spire's symphonic darkness is contrasted by the raw energy of Wardaemonic, the modern abrasion and dissonance of Order of Orias. The Devil's Arcana will also be the debut live appearance of Ill Omen, a dark and occult experience that has been highly anticipated. Drowning The Light headline the Friday night show in their final live appearance for the near future. Patrons can also browse the extensive range of merchandise on offer from all bands and stall holders, partake in cheap drinks & plentiful hangovers.
WULF:  Thank you for doing this interview, that's all the questions I have!   Any final comments?
S SLAUGHER: Thank you for this interview and for your support. The Devil's Arcana Awaits……
Séance Records' Devil's Arcana press release:
Séance Records Presents
THE DEVIL'S ARCANA
13 Bands . Two Nights of Black Metal
MARCH 30TH & 31ST 2012
FRIDAY MARCH 30TH
DOORS 6PM
DROWNING THE LIGHT
WARDAEMONIC
MOON
NONTINUUM
TAMERLAN
SATURDAY MARCH 31ST
DOORS 4PM
VASSAFOR
PESTILENTIAL SHADOWS
SPIRE
ORDER OF ORIAS
EREBUS ENTHRONED
ILL OMEN
CROWNED
SORATHIAN DAWN
The Valve Bar, 900 Princess Highway
Tempe, Sydney, Australia.
Thirteen Turns in the hangman's noose, thirteen steps drudged to the gallows and thirteen cards in the THE DEVIL'S ARCANA, each a divination unto darkness.
Séance Records presents this special union of Black Metal from Australia and New Zealand to take place in Sydney over two nights in March 2012.
This live event will be a unique underground gathering of dark music and art, conjuring the aural and visual as each act turns a card to reveal greater revelations of His Arcana.
Tickets will be strictly limited; the venue is small and intimate to give each patron the benefit of the best vantage and experience. Two night passes will ONLY be available for pre sale. If not sold out patrons will be able to pay night to night at the door. However to avoid disappointment get in early to be a part of The Devil's Arcana!
Two Night Pass – $40AUD inc registered postage to anywhere in Australia.
ON SALE NOW!! Order online now from – http://www.seancerecords.com/shows.html
Or paypal $40AUD per ticket required to seancerecords @ hotmail.com (remove spaces).
Please be sure to put Devil's Arcana Ticket in the subject header, specify the qty & your postal address for delivery.
Tickets will also be available from
Le Cabinet des Curiosities, 97 Enmore Rd, Enmore, Sydney
PH: 0295174598
(Credit card taken over the phone and efpos facilities available in store)
Please direct any ticket queries to – seancerecords @ hotmail.com
All bands will have merchandise for sale on the night and there will be music/ merch stalls by Séance Records and others to be announced.
The Valve bar offers cheap drinks and food. It is located on a busy main road also close to food, public transport and passing taxis. The venue is a short commute via taxi from Newtown.
The show is over 18s, please contact the venue directly for underage allowances.
Facebook event – http://www.facebook.com/events/270662619649763/
www.seancerecords.com
http://www.valvebar.com.au/
FRIDAY PROCLAIMATIONS…
13 cards and 13 secrets to be revealed by 13 covens and so begins…
The High Priestess – TAMERLAN (NSW) Her veil lifts upon the opening of ceremonies as Tamerlan's crescent moon rises and the Eastern star burns bright as a gem in her diadem to ignite this new band of Symphonic Black Metal bards from Sydney.
Fortitude – NONTINUUM (VIC) – The card of perseverance and inner struggle, to accept the mantra of pain, melancholia and introspection borne on the wings of melodic and atmospheric, depressive black metal. This shall be the first live gathering in Sydney by the brothers of fortitude.
http://www.facebook.com/Nontinuum
The Moon – MOON (QLD) – The dark nature of human kind inspired by lunar creatures and conjured by the sounds of raw symphonic black metal. Be not fooled by the moon's beauteous bright for the night lays in shroud dark and fierce.
http://www.myspace.com/moonmyth
The Emperor – WARDAEMONIC (WA) – To rule the throne of darkness is to rule the world with chaos and herald this rule with a wave of devastating noise, a dense dark intensity of unrelenting black metal returned from the Western horizon!
https://www.facebook.com/Wardaemonic
The Devil – DROWNING THE LIGHT (NSW) – To unfurl the chains of oppression is to do unto him in all actions and deeds. It is as to drowning the light. To commemorate the release of the band's thirteenth album, 'Oceans of Eternity' the vampyric brotherhood will overturn the thirteenth card to headline Friday night ceremonies with this exclusive and unique live show. Material old and new shall be revealed for this pinnacle of the first night's proceedings. However yet to come, the remaining cards in this arcane enigma…
http://www.myspace.com/drowningthelight
SATURDAY PROCLAIMATIONS…
Night one is at an end, nocturnal rise with bacchic revelries aside to begin again. Five revealed a further eight to attend..
The Wheel of Fortune – SORATHIAN DAWN (NSW) – Fortunes are raised high and borne low as the wheel turns in its ouroborus cycle of the weaving fates.. and so opens the second eve of musical ceremonies with the debut of sinister melodic black metal from Sydney.
The Hermit – CROWNED (QLD) – Those endowed with the deep knowledge to be attained by solitude and introspection. A silence to be broken and shared unto the world upon the hermits return as songs sung in murky veils of doom paced atmospheric black metal.
http://www.facebook.com/pages/Crowned/190273347678155
The Tower – ILL OMEN (NSW) – Those who dwell in the tower built to touch heaven but who enter through the gates of Hell. Its flames spell only omens of ill fate when drawn from the deck and the catastrophic cries of deathly black esoterica crafted in sorrowful black metal. The vile live debut of this obscure unearthly entity!
http://www.myspace.com/adverseorder
The Magus – EREBUS ENTHRONED (NSW) – Of wand and serpent bound in eternity and transmutation, their being is the ladder between divinity and earth, as above, so below. Great mysteries are revealed in their musical spells of chthonic dark energy, extreme intense occult black metal delivered unto the waiting congregation. The magi shall reveal new hymns as yet unspoken.
http://www.facebook.com/#!/Erebusenthroned
Judgment – ORDER OF ORIAS (VIC) – When the dead rise from crypt and sea the final judgment shall be heralded by these extreme illuminations, a loud and resounding malevolent oppression of death tainted black metal. This live ascension will be a true revelation of doom to launch their magnificent new album, 'Inverse'.
http://www.myspace.com/orderoforias
The Star – SPIRE – Each star is a step in the navigation of higher enlightenment; it is the card to define the astral journey of spire's black peak reaching starward in order to reveal great enigmas through the hypnotic transcendence of this crushingly dark musical entity. Each death chant and bellow resounds in bleak dark noise; doom veiled shadow, ambience and atmospheric black metal. Spire return to Sydney as a shooting star falling to earth on the eve of the new EP release, 'Metamorph'.
http://www.facebook.com/pages/Spire/162076060469674
The Hanged Man – PESTILENTIAL SHADOWS (NSW) – Thirteen, the hang mans number as his noose welcomes death with the tightening of thirteen turns. By grim gallow or gnarly tree he hangs in the place between life and death, companion of decay, plague and pestilence. Pestilential Shadows tells his tales of despair, haunting breadths of sinister black metal that touch as death's chill hands upon the heart. Performing new material from the forthcoming, 'Ephemera' album, so explored are death's great mysteries!
http://www.myspace.com/pestilentialshadows
Death – VASSAFOR (NZ) – Death rides a pale horse and his blackened banner signals the great arrival of this mighty force from New Zealand in their first ever live Australian appearance. Vassafor, a monument to heaviness and dank deathly aura headline the Saturday night and complete the thirteen hands dealt in this live ritual. Their crushing musical chaos of bestial black metal and subsonic doom shall ravage as death's destructive hand cast down to lay waste on all in its wake! Behold as the new musical work, 'Obsidian Codex' is unleashed!
https://www.facebook.com/pages/Vassafor/122700671091826
Death the final rider, the final card revealed in this black arcana! Remember, Death rides high because in the end we all die the same.. and so ends the Devil's Arcana until the deck next be drawn.